The right plates are all about the kind of training you are into. Powerlifting, weightlifting, or Olympic lifting, these categories will help you lock right on to your preferred bumper plates. We realize that this raises more questions than answering them. Don't worry,  we will walk you through the different types of bumper plates giving you a thorough understanding of them.
The Different Kind of Bumper Plates
Steel plates, steel plates with rubber coating, and Olympic Bumper Plates are the different types of Bumper plates we will be dealing with in this article. Let's get started. 
Steel Plates
Used for general strength training, steel plates are a practical choice if you're on a budget or just getting started. Most training centers and gyms, don't prefer steel plates due to their lack of finesse and the fact that they can be pretty noisy. If you like the clank of metal plates while you work up a sweat, these are the plates for you. 
Steel Plates With Rubber Coating/ Urethane
Urethane-coated plates are quieter than steel plates and many gyms like to keep them for this reason. However, they do come short when compared to Olympic Bumper plates. If you are a beginner and don't want to make a lot of noise while working out these plates might suit you better than steel plates. There is not a huge price difference between Urethane plates and Olympic Bumper Plates. It is always better to be choosing Olympic bumpers over rubber-coated steel plates. 
Bumper Plates
Commonly referred to as 'Bumpers', these plates are made out of dense rubber and are built for Olympic bars. These plates come in kilograms and pounds and offer the same weight spectrums as steel plates but limited to 10, 15, 20 and 25 Kilograms for KG plates and 10, 15, 25, 35, 45 and 55 pounds for LB plates. Generally available in black, these plates are also available in several other colors. Competition plates are only available as colored plates. 
Rubber bumpers were created on account of Olympic weightlifting. Previously, lifters would use steel plates. The problem with these plates was that they had to be carefully put down after lifting. This was both impractical and dangerous for the athletes. The early versions of bumper plates limited the amount of weight that could be mounted onto the bar. After the onset of these new bumper plates, athletes can mount much more weight onto their Olympic Barbells.
Sold in pairs, you should look out for the following characteristics and features when selecting Olympic Bumper Plates. 
SLIDING: The inner part of the bumpers should fit the bar perfectly. If not, then the plates will tend to slide off. This can lead to accidents. 
BEND: Ten-pound plates are known to be extremely thin and fragile. Poor quality coupled with excess slimness tends to bend the plates. This results in an imbalance bar, which is shaky and difficult to maneuver.  LYCAN 10 and 15 pounder plates are guaranteed not to bend, and they can also be thrown to the floor mat without compromising its integrity.
Durability: Compromise on quality and your plates will break. Bumpers are subject to an immense amount of torture. They are dropped continuously during training. It is best to get quality bumpers to ensure a better level of durability than get cheap plates that crack. 
Bounce: This might seem redundant but is an immensely important point. Your bumpers need to have the right amount of bounce. It should not be too much or too little, both can result in unpleasant situations for both you and your plates
Bumper Plate Advantages
Safer: The end state of the Olympic lift is overhead or at the shoulder. Rubber plates are not only easier to maneuver but can also be safely dropped without the fear of any damage being caused to the floor or the plates. Rubber plates are perfect for gyms for the same reason. There is an assurance that they will not crack or cause any damage to the foundation if they are dropped by mistake or otherwise.
Workout Flexibility: They provide future flexibility. A considerable number of athletes are returning to Olympic lifting. Irrespective of whether you find yourself at a fitness level to lift, they're a good investment for future usage. 
Quieter: They are amazing to work with. The clanking of metal on metal can be hellish. This problem is completed eradicated when it comes to rubber bumpers. Not only are they less prone to damages, but they also help you maintain a quieter work environment. 
It is imperative that you only stock your gym with Olympic bumpers. Gym owners generally stack steel as well as rubber bumpers. For those of you who want to know and learn about the different types of bumpers, here are the following 
Technique Plates
The name of these plates elucidates their purpose perfectly. These are training plates for aspiring Olympic lifters to work on their form and technique. They are lighter than the real deal and should be used in training. They generally come in 2.5, 3.75, and 5-kilogram plates, as well as 5 and 10-pound versions. If you're training for Olympic lifting the Technique plates help your form with a light load on the bar. The amount of weight you want to put on the bar is up to your level of training, however, a single or a double would be apt for beginners. These plates can take the abuse of regular usage
Black Training Bumpers 
Image Alt Tag = Black Bumpers
Black Bumpers are generally the most common bumpers that you will find. They feature a high-density rubber construction that gives them resilience like no other bumper. These bumper plates can be equated to any item that features regular usage and is in general extremely helpful for several things. It must be brought to notice that, the quality of black bumpers varies by a lot in the market. They might range from really cheap to great quality ones. Black training bumpers should not be picked simply based on their look. It is important to keep durability in mind when choosing these training plates. 
Color Training Bumpers Plates
Colored Bumpers following the color-coding schemes laid out by the International International Weightlifting Federation and the International Powerlifting Federation. Here are the standard colors you will come across in the market.
Red= 25 kg or 55 lb
Blue= 20 kg or 45 lb
Yellow= 15 kg or 35 lb
Green= 10 kg or 25 lb
The color-coding system is not just a fun element or to attract customers. They are a coding system that is adhered to by coaches and trainers to pick out the right weights. Certain brands tend to mix up the standard color-coding using red or yellow for 45 lb and use green for 25 lb, or dropping an entire plate for the line. It is always better to steer clear of such brands as they have no idea about the significance of these color coding or the product that they are selling. These plates are a bit softer than black bumpers making them even more silent.
Competition Plates 
Competition bumpers constitute the highest standards of bumper plates. They have several advantages which are as follows.
Steel discs under rubber surfaces eradicate metal-to-metal contact. 
They offer greater noise reduction, lower vibrations, and keep the bolts tight. 
They offer the best durability when compared to other bumper plates.
They are extremely accurate when it comes to their weight. They are usually within 10 grams or lesser. 
There is no point in sugar-coating things, these plates will cost you a fair amount of money. They are pro-level plates and the primary advantage of working out with them is training with the same equipment that you will be competing with. They are generally, found in all high-end gyms and used by competing athletes. They are not the ideal choice when it comes to home gyms or general training. However, if you are looking for a bang for your buck these are the plates to go for. With all their advantages these plates won't let you down. 
Certain brands do have training version plates.  The difference lies in the fact that the training plates aren't appropriately calibrated for weight accuracy and are therefore not certified. 
Bumper Quality In a Nutshell
If this plethora of information intimidates you or leaves you wondering, then we completely understand. We have constructed a simple two-part approach to bumper plates below. This is going to help you distinguish between good and bad plates. 
Steel Insert: Brass was used a few years earlier as bumper plate inserts and the conclusion to that was that brass is a definite no. Brass is soft and weak and leads to bending and breaking. 
Rubber Type: Soft and hard rubber are the two types of rubber that dominate this industry. The soft variant is crumb rubber which helps improve durability and lifespan. Bumpers made out of soft rubber offer decent bend,  bounce high, and have a rough look to them. Hard rubber bumpers have a nicer finish and kind of make a thud sound when dropped on the ground. They do not bounce much. Their durability is lesser when compared to the soft type and they scuff over time. 
The Different Olympic Plates by Lycan Fitness
Elite Camo Rubber Bumper Plates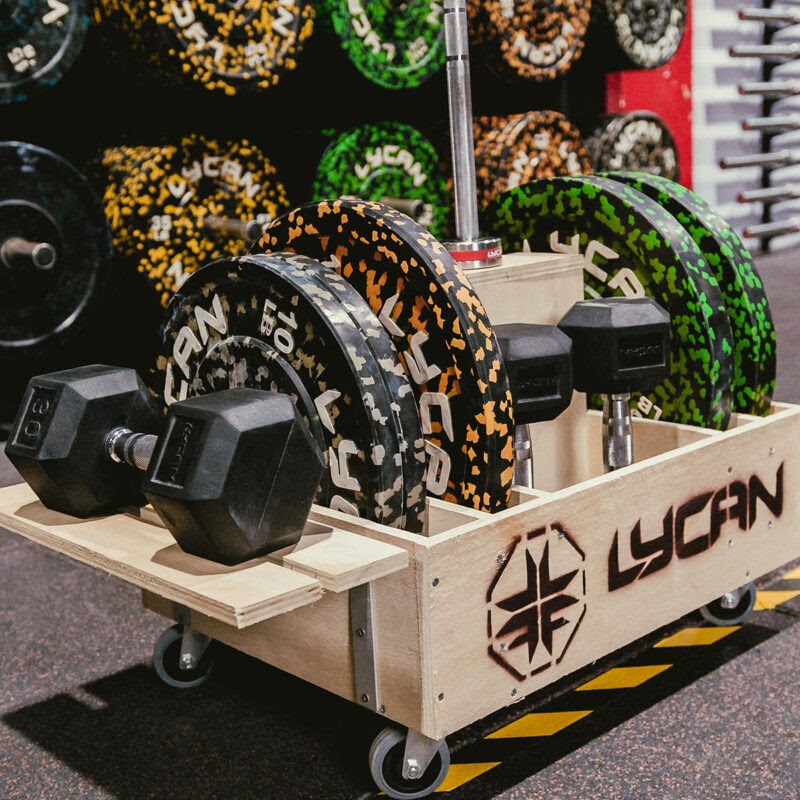 Made from virgin raw material, Lycan Elite Camo Rubber Bumper plates are built for durability and minimum rebound when they fall. They come in an attractive camouflage design for easy identification. Available in 10 / 15 /  25 / 35 / 45 Lbs, these plates come in standard Olympic measurements and fit any Olympic barbell, powerlifting barbell, and any other barbell complying with  Olympic standards. 
Competition Olympic Plates
These competition plates comply with International Weightlifting Federation standards. If you're passionate about lifting, these are the right plates for you. They are made using high-grade raw material for better performance and durability. These plates feature calibrated steel center plates for better weight distribution. They are color-coded for easy identification. They also have raised flanges that prevent them from coming in direct contact with other plates. This protects them from getting damaged and extends their lifespan. They are available in 10 / 15 / 20 / 25 kgs and there is the option in LBS in 25 / 35 / 45 / 55 pounds.
PRO Bumper Plates 
These bumper plates feature a combination of soft rubber and hard rubber, which allows fall protection while reducing the noise during workouts. They are made using virgin raw material for added durability. They offer an attractive and fun color design and fit effortlessly in any standard Olympic bar. They are available in 10 / 15 / 25 / 35 / 45 / 55 Lbs. 
Conclusion
Having a working understanding of weight plates will help you make a good investment and pick out the most suited bumpers for you. Please visit our website to get a more comprehensive idea about our bumpers and how they stand out as compared to other brands.